March!
Spring has arrived, with a riot of colors.
THE CASE OF THE MISSING PIG
Krishna, our chef extraordinaire discovered something very interesting one evening when he was out for his usual walk around the lodge. There was a wild pig carcass quite close to the stream that runs through the lodge. Although the dry stream bed is quite sandy, Vineith and Animesh couldn't find any particular signs that pointed to what had happened. They decided to put up a camera trap to find out more, and lo and behold! Just a little distance from where we all were getting ready to head off for morning safari, there were 2 wild dogs that were finishing off the carcass, leaving Krishna absolutely perplexed as to how a good-sized pig carcass disappeared overnight.
BUSH OF THE MONTH – KARAVANDA
by Saee Gundawar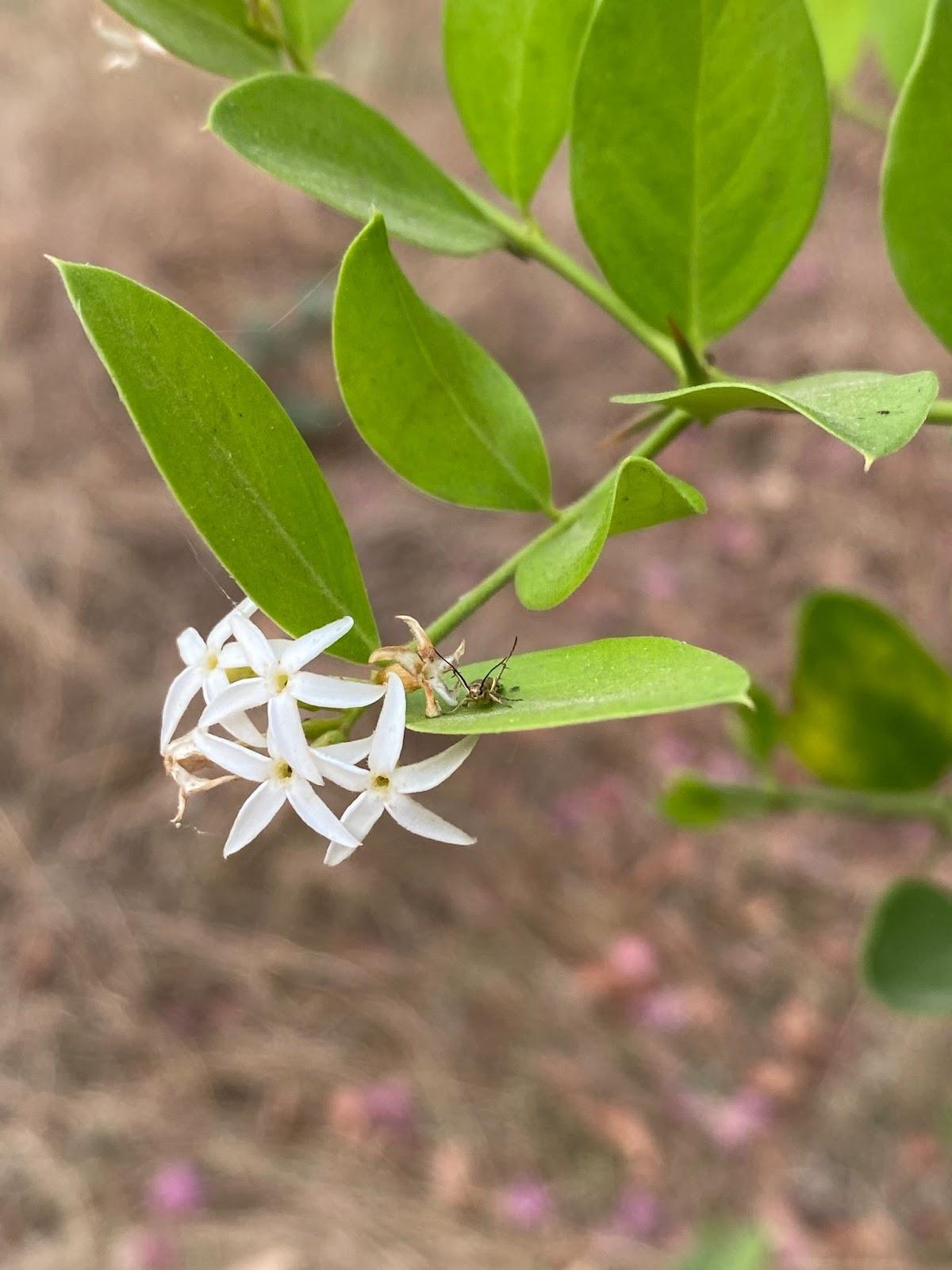 As warm winds start blowing in the evening, March heralds the season of fragrant and heady, night-blooming shrubs and trees, The Karavanda or Carissa carandas is one such shrub that opens its small and unassuming five-petaled pale flowers, as you walk by a green bush you are assaulted by the most delicious jasmine-like fragrance that the flower exudes. In the season where most other shrubs here have lost all greenery, this hard shrub is not only lush but tempting lots of insects with its signature sweet scent. If you have a karavanda bush around you, give it a good look next time, you might spot some spiders making their webs right above the sweet-smelling flowers!
SIGHTING OF THE SEASONS!!
by Depanker Mukherji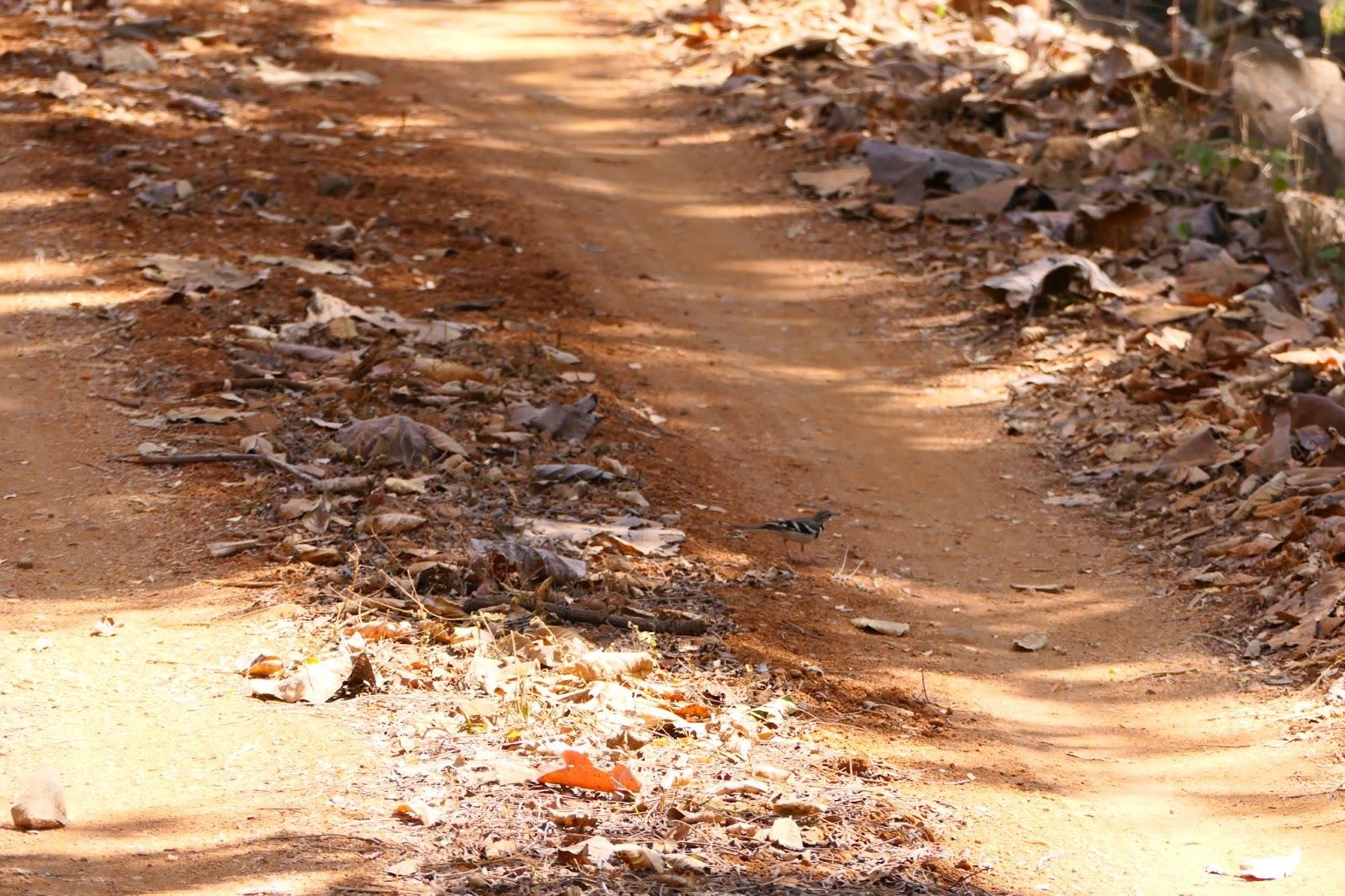 Satpura never stops surprising and that hasn't changed with the pandemic year as well. Most do not know that Satpura Tiger Reserve, with its diverse landscape and its altitudinal variations, hides a varied range of habitats within its folds and provides for some of the most diverse birdlife in Central India.
This has prompted us to work with the forest department to undertake one of the largest bird surveys in India and discover from a list of over 350 species of birds that have been reported from this region. Every season our naturalists are traversing Satpura's length and breadth, across different seasons to spot as many species as possible and trying their skills at recording the rarities and to even add a feather to their cap as a 'lifer' as it's called in a naturalists' parlance when you spot something for the first time in life.
The surprise was sprung upon our naturalist in the beginning of March, as the daytime temperatures started rising here in Satpura, the entire dry deciduous forest started changing color for spring and the forest floor started getting carpeted with dry leaves. Yes, while it sounds like an anomaly, spring herein Satpura is in the middle of the drier months and even before summer sets in, the trees in this dry deciduous forest start prioritizing flowering and fruiting and save their precious resources of water by losing their leaf cover.
At the end of one of the morning, safari drives the jeep was gradually moving back towards the park entrance with the sound of crunching leaves as one of the naturalists sighted a bird right in the middle of the track amongst the dry leaf litter. At first sight, it looked like one of the usual suspects with a tail wag and black stripes but as the naturalist got a closer look through their binoculars, they realized that this had two distinct white bands on the wing and an olive buff back which confirmed it as the Forest Wagtail!!! A species that is rarely seen passing across the region during post-winter months when it is heading back from some parts of Western Ghats, and other Western states towards Pakistan. It was a celebration indeed and even though some others tried to look for the species again but it was sighted only once. A true 'lifer'.
Sighted just after the bird survey had ended the sighting did not make it into the bird survey data but it was definitely something to celebrate. Thankfully the naturalists got a picture to share with you and to save as a memory of this rare sighting.
Whether we spot the Forest Wagtail again or not isn't sure but it's definite that there will always be something new next season or who knows, even the remainder of this season. Come join us!.
TREE OF THE MONTH – INDIAN TORCHWOOD
by Vineith Mahadev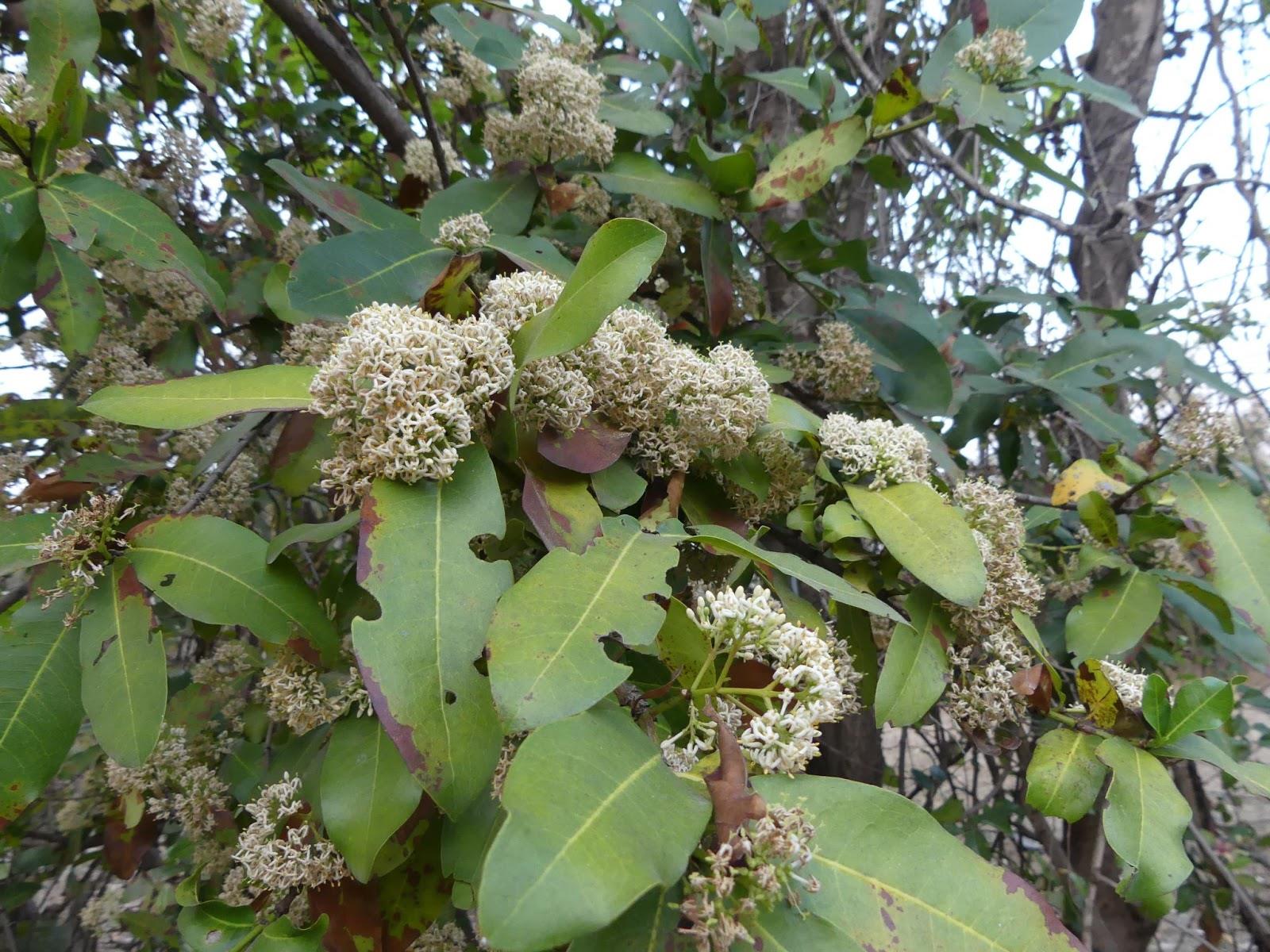 Satpura being one of the popular landscapes in the country to experience the jungle during the night gives us an opportunity to witness some special nocturnal events. It is March when the air is filled by the witchery of the Indian Torchwood Tree (Ixora pavetta)
A small woody and partially deciduous tree that grows on the slopes of the Satpura landscape. It is an unassuming tree until March. Like most coffee family trees, Torchwood ages slowly by the rocks, a modest size with usual dark-flaky bark, the elliptic opposite sets of leaves wrap around the heavily branched crown to not give away any distinguished signature keys. But when flowers bloom each evening in March, the clusters hold the white flowers consisting of four petals as though lashing out its heady aroma to all four directions. It indeed is a show stopper during our night patrolling drives!
In a month's time, the ripened berries would be often found in scats of Civets and Sloth Bears
SLOTH BEAR AND CUB
by Animesh Manna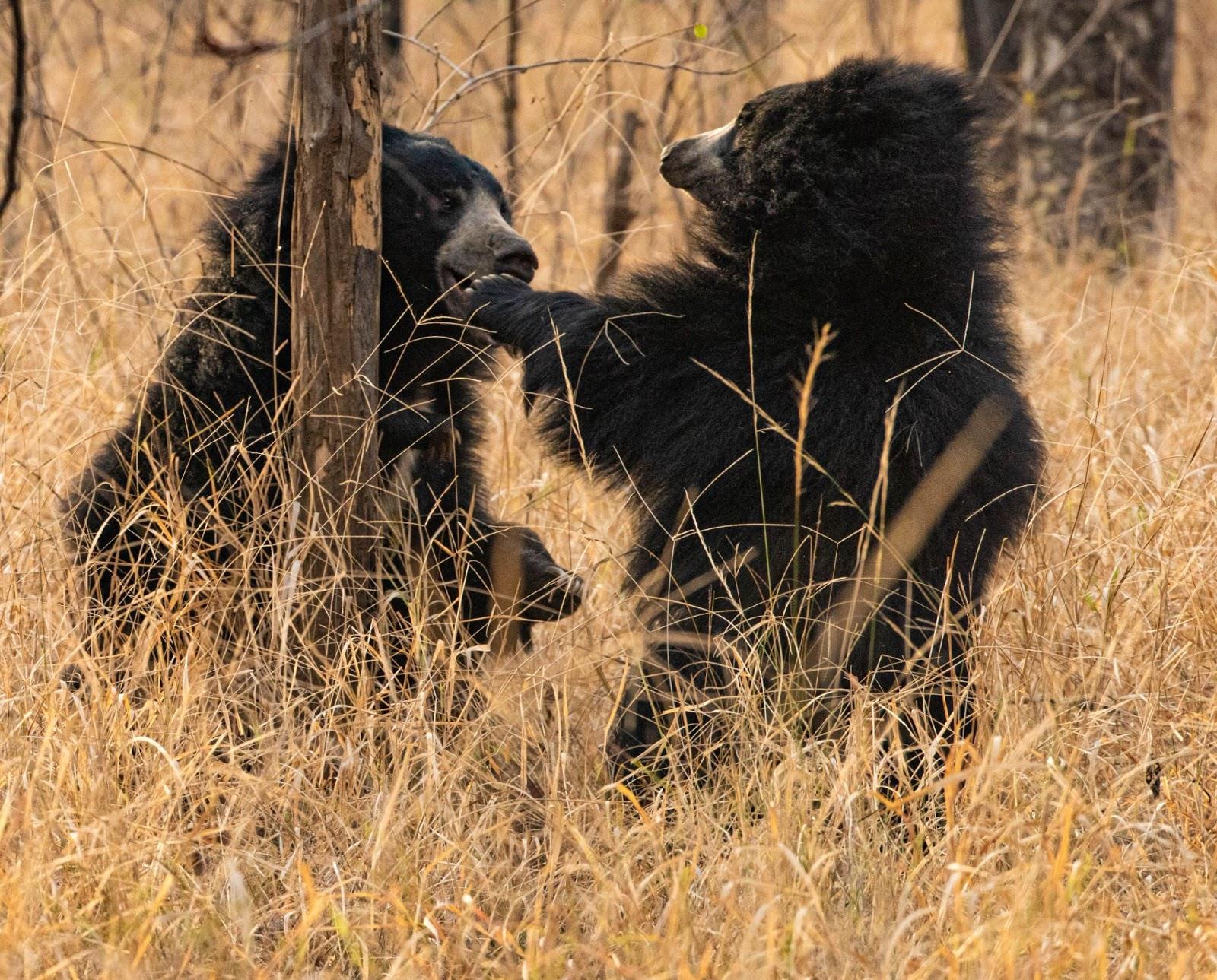 It was the 18th of March and since morning we drove our guest Vijay Datwani and his son Aryan tracking two sub-adult tigers which we got a glimpse at Jamun Jhiriya (a freshwater spring) But somehow we missed it when they were moving to another waterhole through the bushes. We went on an afternoon drive as well but it didn't come out. At the last moment, we decided to move to search for a Sloth Bear which was last seen some 3 days back near the elephant camp. While crossing near the elephant camp light was fading and in one blind turn almost stumbled a Sloth Bear which was behind the bush. It got a bit startled by our sudden breaking but did not run away. There was a grown cub as well with her. This is the mother whom we were watching from last season. This season the cub has grown to almost the mothers' size. While observing both of them digging termite mounds and sucking them out suddenly we heard another rustling from the bush on the left-hand side of the road. First I thought it's a Wild Pig but when the white muzzle peeped out from the bushes we discovered it was an adult Sloth Bear. Within seconds both the mother and cub were alert and on their two. Coming huffing towards the other one but surprisingly mother stopped and the cub went straight towards the other bear and almost chased it away and came back to the mother with pride. It seemed to be saying, I am grown up, all ready to survive in the wild on my own.