Of the many fevers a naturalist could get, 'Blues fever' is the strangest. This makes pupils sway rapidly and eyes squint, makes them walk on haunches and their communications turn into Morse code.
This fever was acquired during a Butterfly Survey at Satpura after an introduction to the Blues family of butterflies by Ashok Sengupta. Ashok gripped the audience with anecdotes of butterflying and keyed in individual butterfly species of the Blues family. Each butterfly picture was deciphered by the dots and dashes positioned between the veins, their presence or absence and their intensities in Morse coding. These puzzles challenged naturalists and left them in speculated conversations and uncompromising wars. Ever since these identification keys were pointed out we Forsyth's naturalists have been pointing cameras to Cupids, Blues, Pierrots to record rare ones.
Dawn – a guest, spent a couple of days in Pachmarhi reserve a year ago and she walked with me to Twynam's pool, an old English swimming pool, now used by local kids during summer and regularly by Skittering frogs, Keelback snakes, Darners and many mammals to sip Twynam out. Dawn cancelled all her plans and spent the whole day around this area for its diversity of native host plants, right amount of light on butterflies basking and the mud-puddling areas. This is one of the beautiful places to watch fast fliers for a long time. Pansies, Eggflies, Nawabs, Barons, Baronets, Silverlines, Oakblues, Yellows and other fellows, either take turns or choose a common spot and stretch their wings for a few minutes while they probe for minerals.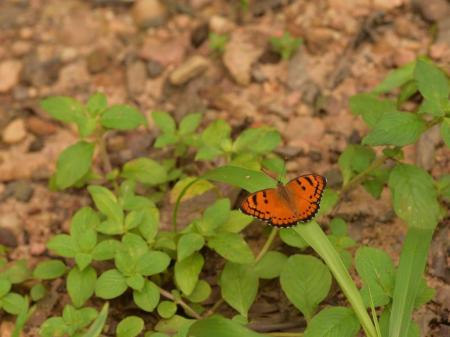 Baronet
Twynam's pool was among the six transects that the forest department chose for the first butterfly survey ever in Madhya Pradesh. Although it was first survey on butterflies but it was handled exceptionally well by the department for three days, they had experts assigned to groups, scrumptious food and most decent accommodations arranged during any forest survey. What intrigued me is that some of the busiest forest officers have been butterfly watchers for decades and were a wealth of knowledge.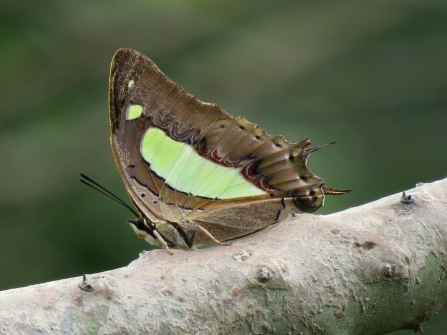 Common Nawab
Pic: Deepa Mohan
Dungriyal who is an experienced Forest officer inched with us while it rained Blues and Browns. When the butterflies took shelter from rains, Dungriyal made sure Butterflies were introduced to us through their various host plants, their lifecycles and habitats. In fact some of the habitats were permitted only for this survey and they offered views that were stunning and spots that hold endemic butterflies. And these treats are on offer for those who register for such surveys, like a jeweller's safe-lock that hides rare pearls for special customers. At certain altitudes that Satpuras range into, the butterflies were more isolated and the race for rarities got even better. Skippers; a group of butterflies that are often skipped by amateurs, and among them are Flats that tease a few seconds and flatten under leaves just where you cannot reach on those cliff hanging rocks. It seemed that the mammals too were quick here. A Gaur disappeared in a flash where he was browsing on a ridge of a gorge that rose above streams that rushed towards Denwa River. The background had the highlands rising curtained by mist and rain.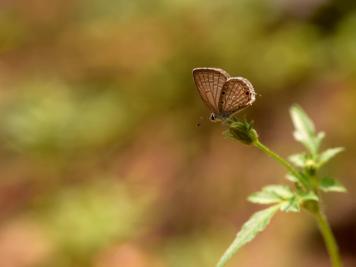 Forget-me-not
Butterflies have taken us to places, to teach us plants, to tell their predators' tale and give us science and sense. Some of these butterflies are rare, some so common and some endemic and all of them fascinating. These are a group of insects that are loved by many and as rightly put by Ashok the scientific humourist; they love humans too and live around us more often than not. Ashok and the participants even decided upon a magnificent butterfly, the Orange Oakleaf to lead the butterflies of Madhya Pradesh and the Park Director is pushing it to be declared as the State butterfly during the forthcoming Wildlife Week early October. The survey will be held annually as the first one fluttered with high ratings with records of Club Silverline, Long-banded Silverline and Orange-tail Awl that were new to the Reserve's checklist.
We naturalists with 'Blues fever' at Satpura hope to stay infected forever. And I trust the online translator has converted this blog post written in Morse to English, for you to be inspired and initiate surveys, butterfly watching and creating native gardens for butterflies to enjoy them being around you.