Who should do this Forsyth trail?
It sounds exciting to be in the wilderness and the landscape where there is a sudden deafening silence from 1.3 billion people right in the heart of the Indian map. There is endless learning of the ways wildlife lives and behaves, most encounters are the signs and tracks than the animal itself. This experience is for those who want to be a part of the story of a jungle weave. Wildlife sightings can be possible but may not be long enough for photography, and it depends what you consider photographing; bugs, butterflies, flowers and endless creativity with natural patterns in the wilderness is about. This is specially designed for people who appreciate watching things through a binocular and magnifying lens rather than clicking for 100 likes on their post.
It is for serious wildlife enthusiasts, bird watchers, tree-huggers, butterfly watchers and keen guests with enthusiasm to appreciate anything that we encounter on the trail with no particular expectation of a charismatic animal sighting. It is not really for the point-to-point or check-the-tick-box hikers.
It is for those who can rough it out and be happy with little things, and are ready for subtle deviations in plans in natural conditions and inevitable circumstances. It is luxurious for those who would prefer to camp in basic canvas tents with minimal luxury. And especially the ones who enjoy a scrumptious meal with enchanting views and who are happy with the love served in the cuisine and its quality, rather than the number of items served.
And most importantly, the trail demands a certain level of fitness which involves walking for 15-kilometer length per day in uncertain and uneven terrain.
For any questions related to this trail experience please write to nikita@forsythlodge.com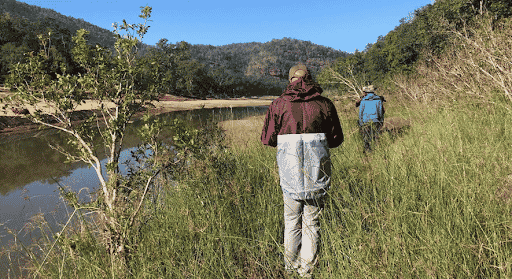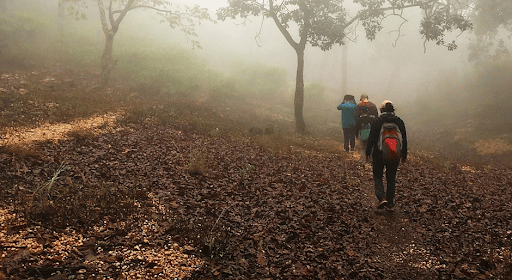 When we walk the jungle, we walk at its pace. The forest is as slow or as fast as we breathe it in, it invariably makes you touch it, set your foot down and bow down to the bugs and the little flowers that it blooms to advertise a future for itself and you. It is a jungle, consumed inside you and it seldom calls you but awakens inside you and then you simply arrive. You'd walk where a tiger has walked as it lets you talk within to the one you have occasionally talked to.
In our race of existence versus extinction, a few… bare few dense forests are left in India, astonishingly they occupy only 3% of the land, and that too is vulnerable to the socio-economic pressures we currently undergo. Satpura is such a landscape in Central India that has unbroken forest cover, thanks to its unpromising terrain for agriculture and selfless efforts of the Madhya Pradesh Forest Department, Local communities, and Naturalists who have a common vision; Conservation.
Forsyth Lodge in Satpura is sensitive about this twilight hour of the planet's ecosystem and ever since it has been in the region, it has been constantly working to create a sustainable and efficient tourism model. Having been indirectly involved in many management plans of the Forest Department, the Forsyth Team actively strives to create best practices for minimally invasive wildlife experiences. We strongly pursue the cause to reduce motored modes of exploring towards minimal carbon footprint ways of experiencing Satpura. Apart from the walking and canoe safaris at Satpura, there is another favorite experience of our naturalists.
The Forsyth Trail is a three night or five-night trail to understand a Tiger Reserve. Forsyth trail is set in the buffer zone of the Satpura Tiger Reserve. The experience is about the Indian Jungles through a naturalist's point of view, through their real time stories. Of course, there is always an element of fun and adventure in one of the most spectacular wilderness habitats of this country.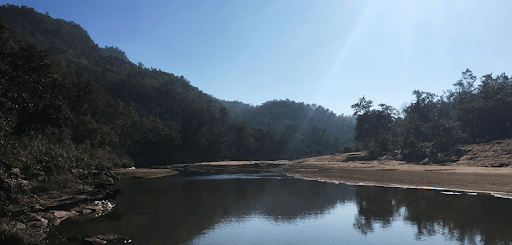 Our naturalists have designed itineraries that can be customized by duration and length and even gradient level of the trek. Bear in mind that this experience is carefully crafted with passion, safety is on priority at every step for both the guests and the wildlife.
Campsites are fixed on an arrangement with the Forest Department, a permit would be taken by us once you sign up for Forsyth trail. The tents are made of canvas and cotton material, about 10 feet high, 12 feet in length, and 10 feet in width. There will be cots and beds, side tables, luggage tables and solar charged lighting. Toilet tents are separate, a wooden toilet seat is designed for ablutions into dry pits. Bath tents are provided separately where hot water is provided in buckets. The campsites are remote and they are common sites for other operators as well, it has no electricity and mobile phone reception. (Read more on 'What to expect')
ITINERARY
Once you customize the following itinerary there a few things the naturalists expect from you like 'things to pack and prepare', also who should do this trail (which perhaps needs to be read first)
Day 1: At the lodge: Arrive for lunch at Forsyth Lodge, Satpura.
Briefing and preparation for the trail. Evening walk to have us all on the same page and to know your naturalist guide. Packing for the campsite.
Day 2: At the lodge: can be customized as per preference.
Day 3: Camping: Early wake up to head out to start a full day walk from the Sehara gate to campsite 1 i.e., Jamanidev (10 km)
The walk is on a flat terrain on cart roads, in a semi deciduous forest dominated by stunted acacia and Indian corkwood. Habitats for antelopes, Sloth Bear, Wild Dogs, Wolf, Fox, Leopard, Tiger and lesser cats. One may expect villagers and cattle herders through this trail that use this buffer region of the reserve. Very interesting signs of rare wildlife is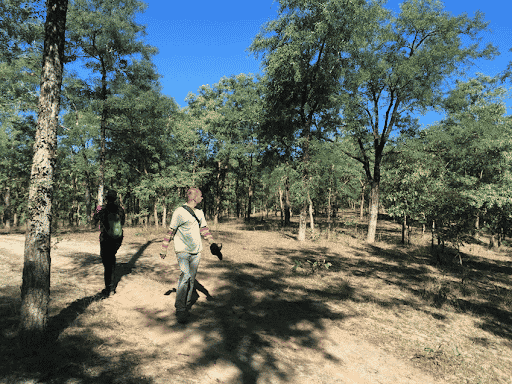 often encountered in this short walk to the campsite, mammals are quite shy and quick in this region but visibility is better due to less shrubbery.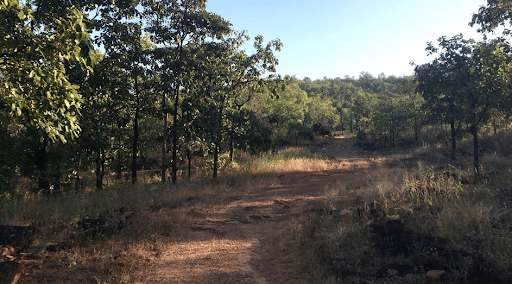 Day 4: Camping : Jamanidev – Bineka (Lunch) – Manakachar (Campsite 2)
Early breakfast at Jamanidev campsite 1, Walk towards Bineka and reach by lunch. Drive to a little(2km) before Manakachar campsite 2 after lunch at Bineka and end your day with a short walk towards the campsite. The trek is easy on undulating cart roads and river bank trek.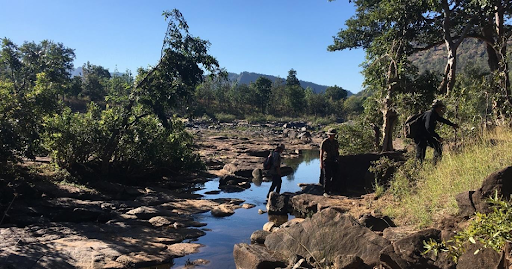 Day 5: Camping : Manakachar – Dahelia (14 km) Full day walk towards campsite 3
This walk starts from a village that was relocated a few years ago and boasts of successful relocation program by the Forest managers in Satpura. Now, the village is a good grassland, and the wildlife is slowly recovering through regular monitoring by the Forest Department. We then walk along a cart track for about 9 KM, this trail passes through ridges of volcanic fault lines. There is undulation in the trail as it passes through intermittent dense tree cover. This trail leads to River Denwa, one of the tributaries to River Narmada. The views are stunning along the trail, the trek for the next 5 KM is along this river. The trek is stony ups and downs, and often through the flood line to the tree cover. This is a moderate level hike; the stony trail can be a little taxing for the foot. There are amazing rock paintings along this trail, waterfalls and sand bars.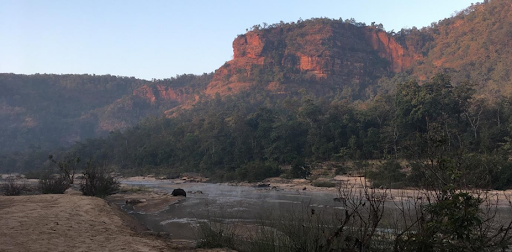 This is excellent birding habitat, recently we have seen many tracks of Tigers, antelopes, Sambar, Wild Dogs, Sloth Bear and even Otters could be expected. The vegetation gets denser in some areas but the Denwa river trail builds anticipation almost at every turn, either with spectacular landscapes or with stories of wildlife.
We reach campsite 3 on the banks of River Denwa to spend the night.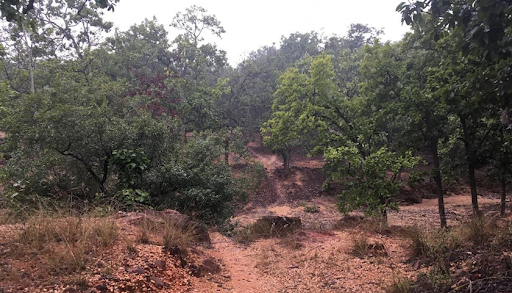 Day 6: Dahelia – Pachmarhi (13km) Full day trek and checkout
Breakfast at 7:00 AM at Campsite 3. Depart campsite at 8:30 AM for a 13 KM trek to Pachmari Plateau. This trek has an uphill climb and gradual ascend till the Pachmari Plateau. Packed lunch is carried from the campsite.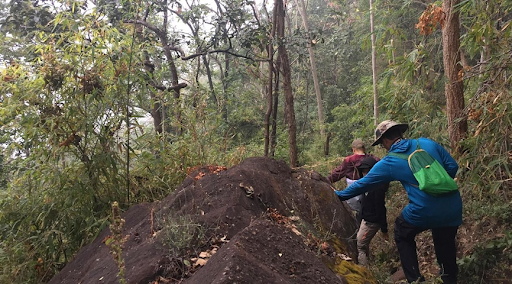 The trek passes through dense woodlands, and another village that was relocated. Then a gradual uphill climb to ascend about 500 meters. The pathways are narrower, thick with bamboo vegetation and the Pachmari sandstone can give less traction than normal. Once we climb up this pass, we are greeted by the Sal woodlands that appear as an island in the midst of mixed woodlands.
Wildlife expected here are Giant Squirrels, Passerine birds which are quite rare like the Black crested Bulbul, Blue capped rock thrush, Malabar Whistling Thrush, Birds of Prey are also expected and can be rare like the Black Eagle and other Aquila eagles. Mammals such as Sambar, Muntjac, Gaur, Sloth Bear, endemic butterflies are found in this region.
We arrive at Pachmari by evening to say Goodbye until we meet again.
A little about Pachmarhi, it is a town that was once a summer hill station for the British, and now an Indian Army cantonment. Many English buildings catch the eye as we enter the town late in the evening. This town is very touristy, most tourists are domestic who come for short treks to visit some waterfalls and viewpoints, such as the highest in Central India at Dhoopgarh, 1350 MSL.
Extensions can be added at Pachmari plateau for 1 to 2 nights after Day 5
What to expect
Weather- November to December, can get cloudy and we may experience intermittent drizzle along the trail. Nights can be very cold. Temperatures vary from 10oC at Night, 5oC to 8oC in the early mornings to 25oC by noon. Jan – Mid March is cold in the night, 10oC at night and early morning to 30oC by noon. Weather is dry and sunny which is pleasant to walk through the day.
Lighting and electricity at the camp- Lighting is minimal with fuel lanterns and candles around the tent, in-tent lighting is a solar charged lamp. No electricity or batteries to charge phones, cameras and other devices.
Food- At the campsite, dinners will be a full course meal. Breakfast is English breakfast with vegetarian options available. Packed lunch would be rolls or sandwiches and a trail-mix of nuts, dried fruits and seasonal fruits.
Tent provision- Beds are comfortable mattress, blankets and duvets are provided, soft pillows are kept by default (Let us know if a hard pillow is required), luggage table and bedside tables are provided, hot water bag is provided at night, two SS water bottles are provided which can be used to refill and carried along the trail. Toilet tents and Bath tents are separate, towels, soap and scrub are provided at the campsite.
Water- Drinking water is carried from the lodge in cans which is filtered and RO treated, which is safe to drink and to carry for the trail.
Safety- At the campsite, we restrict our walks to vicinity of the campsite as there is wildlife activity in the buffer region. Nearest medical assistance from the campsites is at least two hour away. A First Aid kit is carried by the Naturalist. Proper gear as advised in 'Things to Pack' to be considered for walking safety. Bear spray and horns are carried by naturalist during the trail in case we encounter Sloth Bear at close quarters, safety briefing will be emphasized before and throughout the trail
Things to pack and prepare for Forsyth trail
Priority List:
· Binoculars – ideally 8×42.
· Weatherproof Shoes preferable high ankles
· Two sets of polyester clothing, full sleeves shirt is recommended for the trail (Cotton attracts spikes and poking seeds)
· Fleece jacket
· Down jacket/ Windcheater
· Thermal innerwear
· Prescribed medicines
· 1 L Water bottle
· Day Pack – 3 to 5 L
· Gloves
· Hat or Cap
· Sunblock lotion
· Flashlight or headlight
· 2 pairs of socks (We do river crossing and certain damp places may dampen the socks)
· Basic toiletries Optional List:
· Camera – A point and shoot is recommended, if you are carrying a DSLR up to 300 mm attachment is recommended.
· Batteries and extras for devices needed
· Power bank and cords
· e-Readers or Books
· Light snack
· Hand warmers
· Duffle bag or backpack or even you could tie them up into a bundle using a bed sheet or towel to send essentials that we only need at the campsite like Books, toiletries, extra warm layers, power-banks and cords, etc.
Recommended to read before the trail:
· Do's and Don'ts during safaris and bush walking (Web based search)
· Leave No Trace principles (Web based search)
· Birds of Indian subcontinent by Inskipps and Grimmet (Field Guide)
· Jungle Trees of Central India by Pradip Kishen (Especially the introduction chapters)
· Highlands of Central India by Capt James Forsyth (Available for free on google books)
· Tracks and Signs field guide by Shekar Kolipaka
· Wildlife of Central India by Surya Ramachandran and David Raju (Available at Lodge)