"If it scares you, it might be a good thing to try"  – Seth Godin
When you hear about adventurous activities, you think about mountains don't you? Bungee jumping, river rafting, paragliding and so on. India has a whole array of adventures to explore.
Did you know that Satpura Tiger Reserve in the state of Madhya Pradesh has different adventurous activities to offer? Not just looking for wildlife on Jeep safari, there are other modes to observe the different perspectives of the jungle. Apart from the regular safari that one can experience you can indulge in exploring the forest from different eye levels.
Walking Safari
Satpura is the only Tiger Reserve in Madhya Pradesh that allows you to walk inside the core area. A pack of five including a forest guide who is trained and equipped with a Stick, Pepper spray, and Air Horn. Walking through different habitats, mostly walking through the pathway and sometimes using the pugdandi (pathways through the bushes). We will be experiencing a different view of the jungle. We will be learning about a lot of small things like Spiders, Insects, Small flowers which we generally missed while moving in a gypsy. Comparing your everyday breakfast on a table and chair here you will be doing it sitting on a hillock overlooking the forest from a vantage point.
Another adventurous walk we do in a buffer zone for a full day. Where we start in the morning and cover almost 10km. Have a small packed breakfast in a stunning location. Soaking the forest around in our mouth-watering brownies and a cup of hot coffee. We can also add camping with this and experience the jungle at night as well. A bonfire at night will create a different aura to it.
While on a Jeep Safari in the buffer area in Parsapani, , you can also opt for walking towards the caves that tell the tales of cave dwellers from 12-14000 years ago.
Watch the video to experience the walk yourself…
View this post on Instagram
Parsapani cave paintings at a glance
Cycling in the Buffer Zone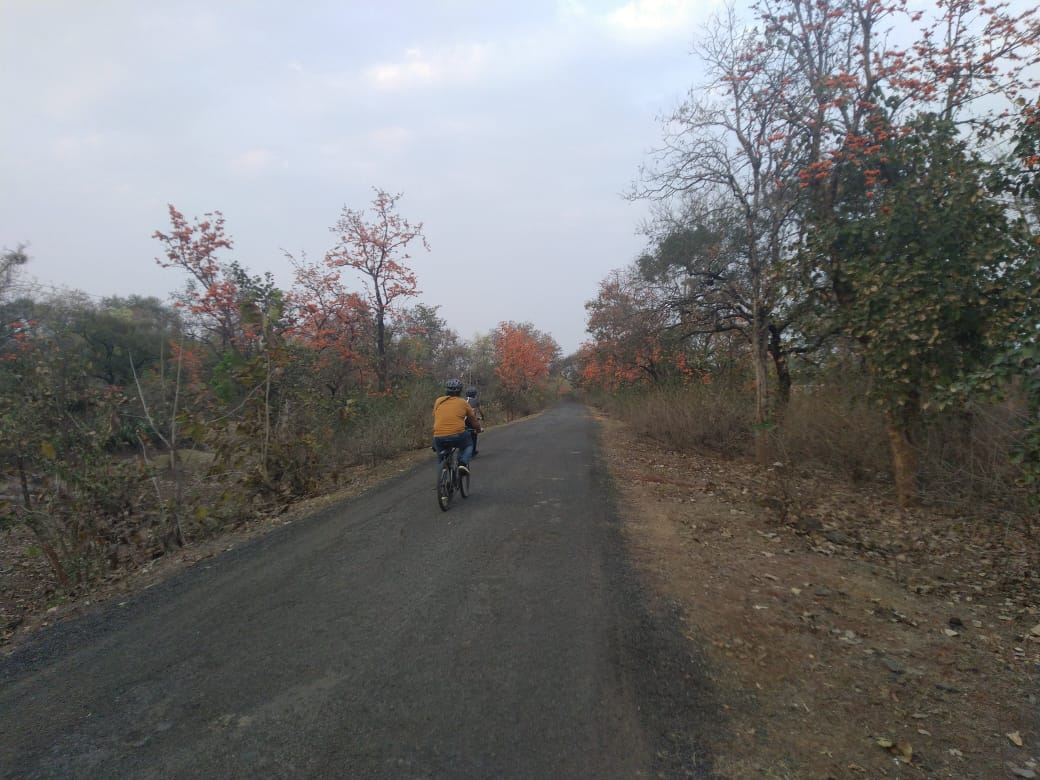 If you are a fitness enthusiast and love to be around nature,  you can enjoy cycling in the wild Satpura forests. Indulging in this activity will not only be adventurous due to the rough and rocky terrain but also enlightening to experience the jungle in the most eco-friendly way. You can opt to cycle around the villages and give yourself the pleasures of the fragrance from rural India.
Boat Safari
Boating Safari (An hour long activity) takes you to a different level of observing the park. Where you are mostly seeing the vastness of the Satpura landscape and sometimes takes you to narrow creeks where the silence of the forest talks with you. It's great to see the water birds and crocodiles as well.
Canoe Safari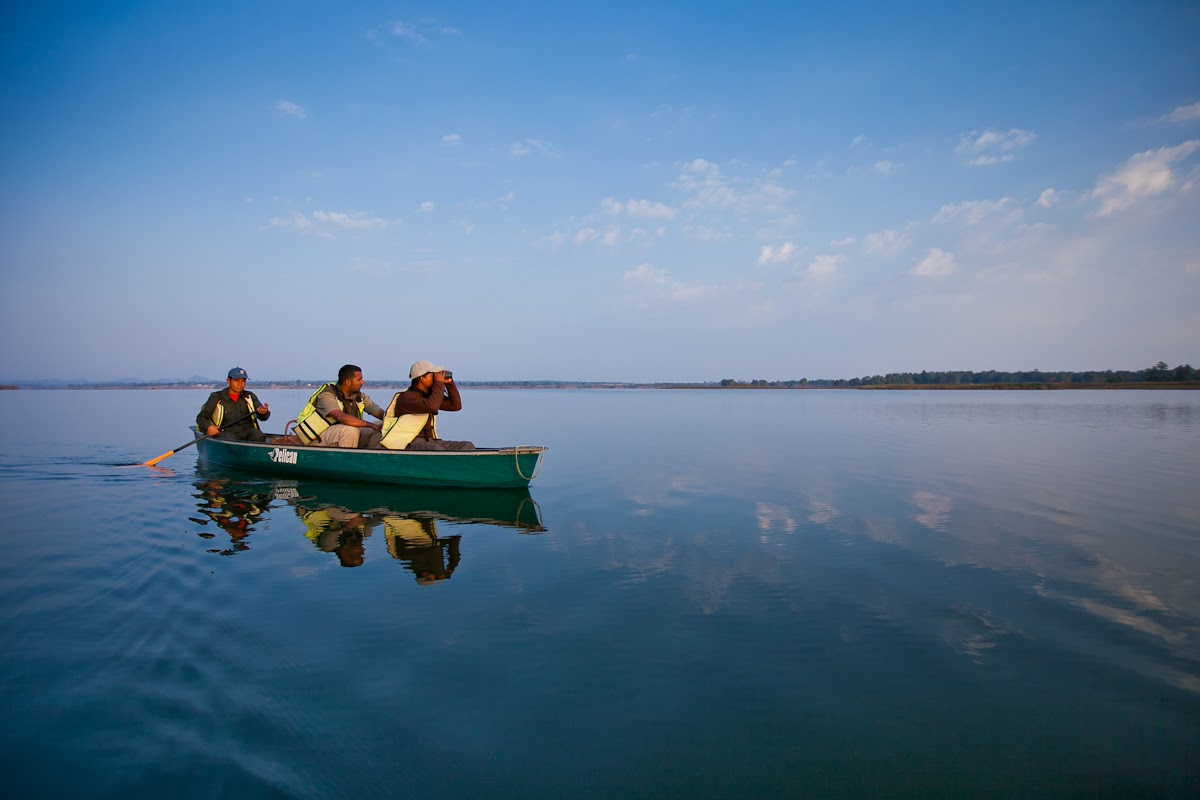 Canoe Safari (2-3 hours activity) is unique in its way, where you can go around the edge of the forest even when there is very little water for boating. February and March are good times to explore in a canoe to go very close to the emerging Islands in the river for bird watching. It takes you to the eye level of the birds. Without making lots of noise. So you can go for close-up shots. Overall the same forest will portray a unique picture and will get a very different experience from these different adventurous activities.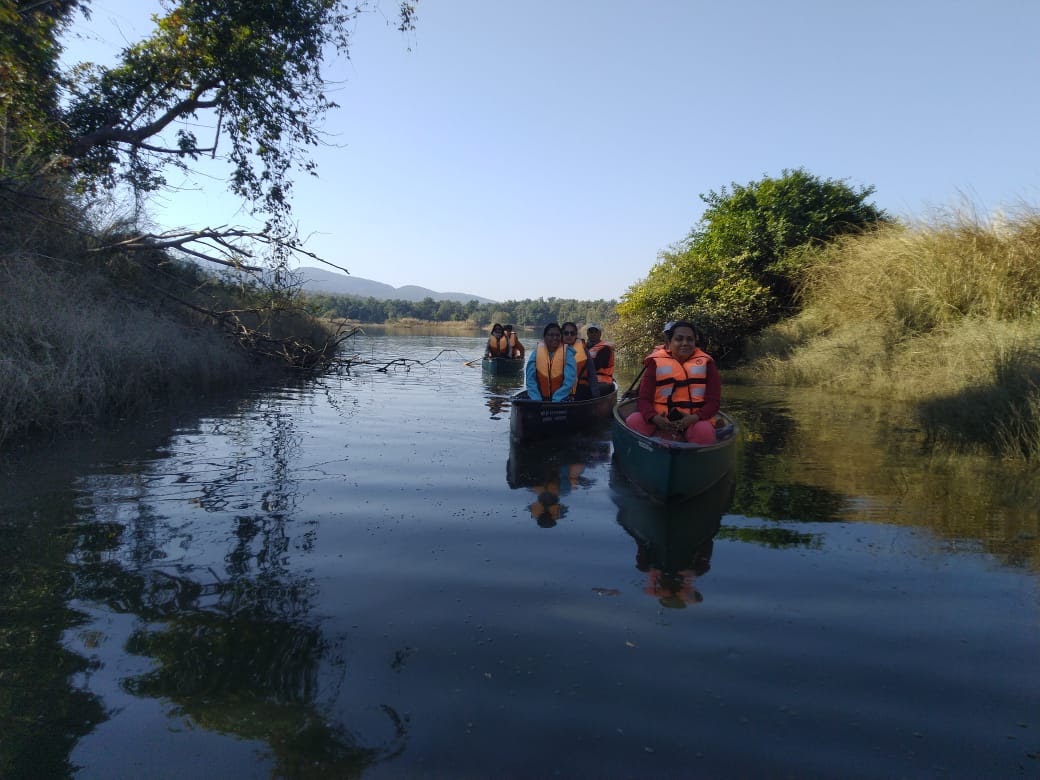 We hope to experience all the activities with you, on your next visit to the majestic landscape of Satpura.