My mind has wandered back to my first visit to Satpura, and my first experience on a boat safari.
Satpura is a forest like no other. Located in Northern Madhya Pradesh, it has a beautiful natural boundary line in the form of the Denwa River. In order to access the park, one has to get into a boat and cross the river to the main gate.
While named Satpura Tiger Reserve, the park is home to only 49 tigers. It is more a place to sight leopard, sloth bear and giant Malabar squirrel. They only allow 12 jeeps into the park at one time, and in order not to disappoint everyone else who wants to visit, they offer you other options. Canoeing, walking INSIDE the forest, night safaris!
I remember the first time I spent a weekend at Forsyth Lodge, a beautiful 40 acre property located in the heart of Satpura. It's run by a wonderful team of really knowledgeable naturalists who spent the weekend with us trading wildlife sighting stories. The best part of going on safari (other than seeing those elusive cats) is meeting like-minded people and sharing your love for nature with them. Each of the four naturalists at the Lodge has their own special interests and obsessions with animals, flora and fauna. Their knowledge of insects, reptiles and amphibians made it a much more fascinating weekend in the park.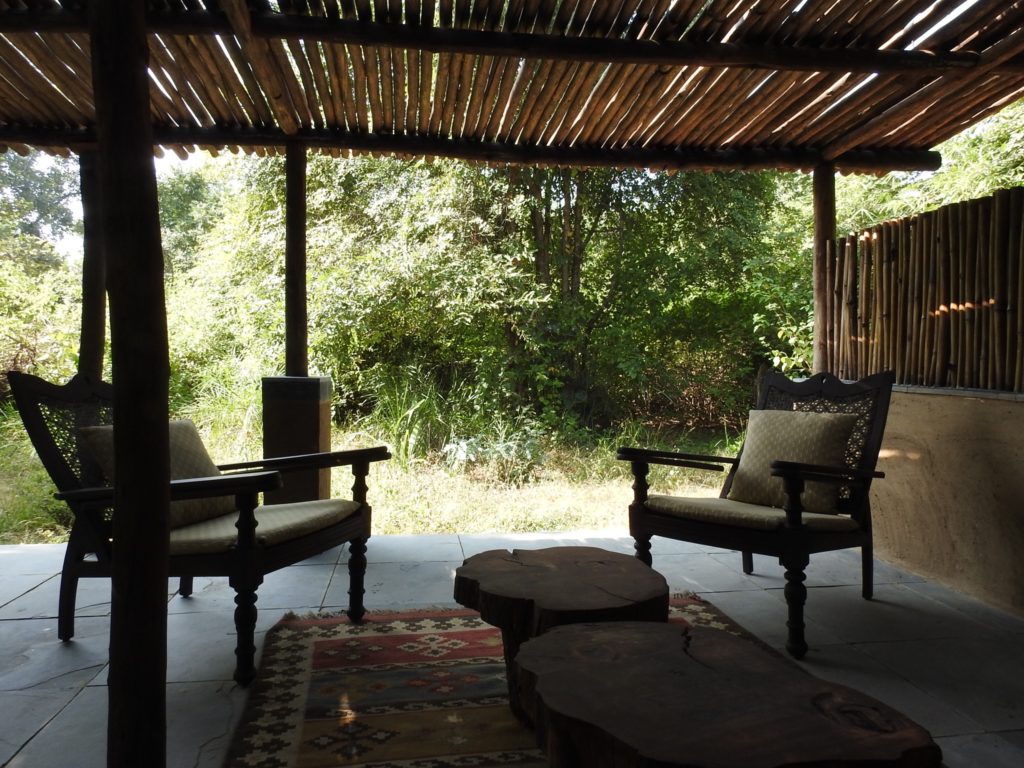 Our first morning jaunt was scheduled to be a canoe safari. No one believes me when I say that early mornings in these areas are absolutely freezing cold, and this one was one of the bad ones. 12 degrees!! Luckily, I was well equipped with thermals galore.
I was excited about going on this boat safari. Each canoe is a tiny boat with three wooden strips for three people to sit on. Your guide rows, and there is an extra paddle for you if you would like to help. I got very excited and rowed the whole way. The only thing that confused me was how to turn, but I'm sure I'll figure it out next time. When in a canoe, balance is everything. If you want to turn, you can't just snap yourself around or everyone will be in the water! You must turn slowly and only with your head. Keep your core tight and centred at all times. (Between this and the rowing, it was a good morning for exercise).
It was a magical experience being on the water as the sun rose and turned the sky rose gold.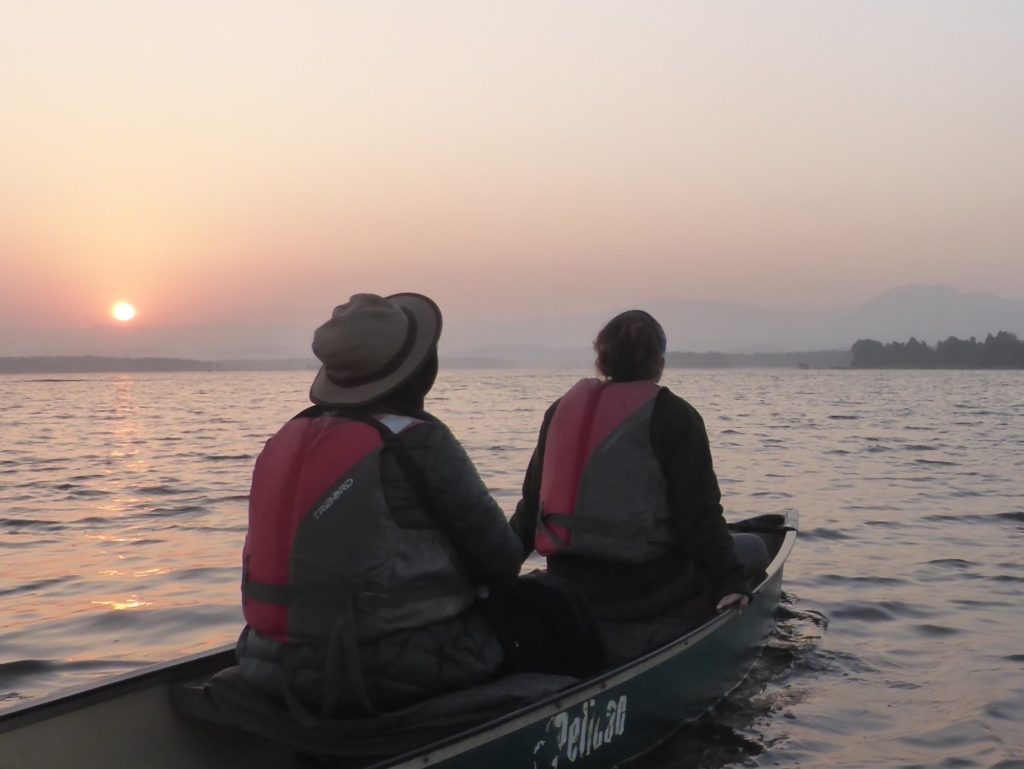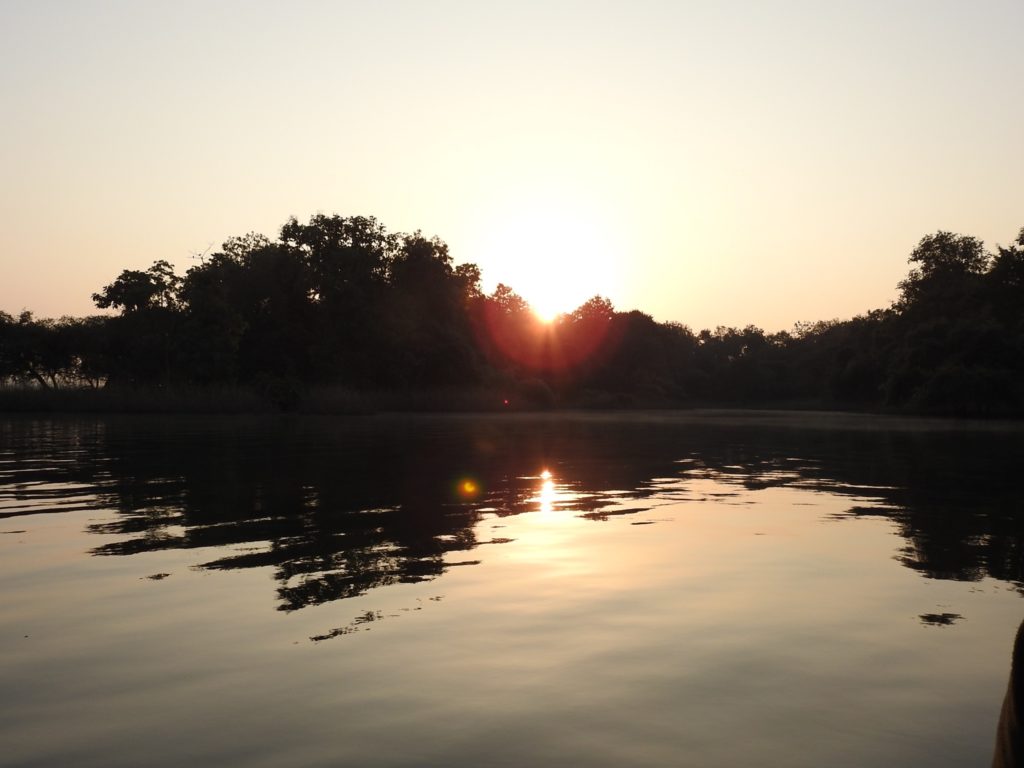 We drifted lazily through clumps of trees and mist rising from the water and pulled up for breakfast by a muddy bank.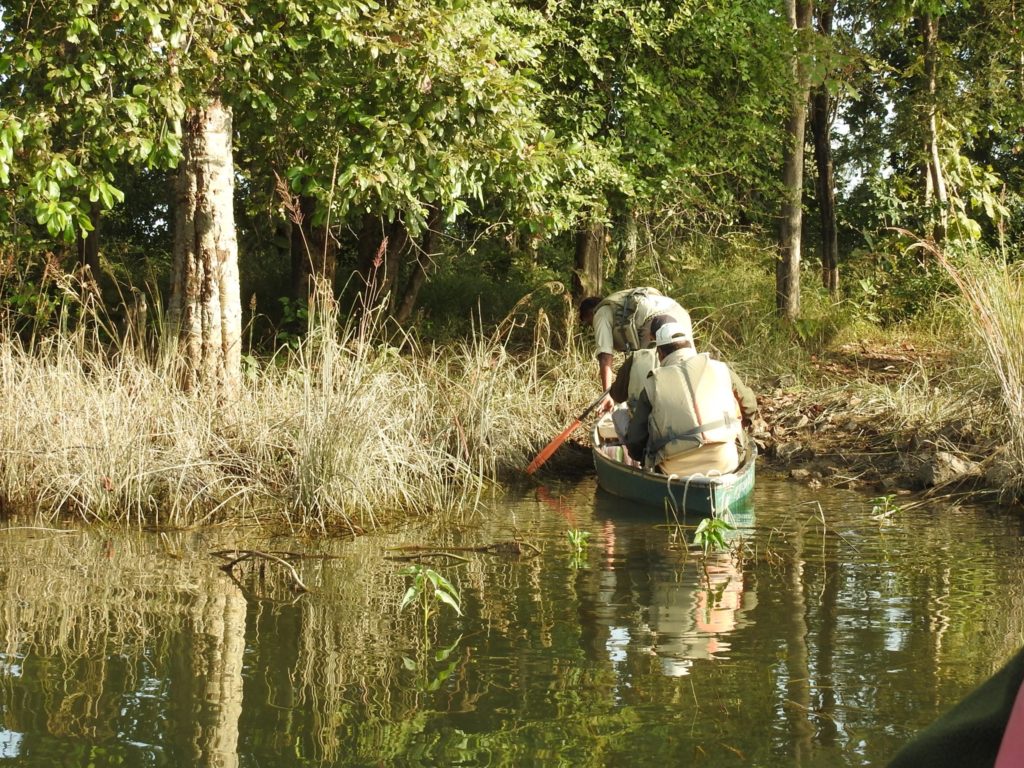 The food at Forsyth Lodge is wonderful, heart warming and homely food. Their bakery is something else! Everything is made freshly every day – from the cakes, buns, muffins and breads, right up to the biscuits they send to your rooms with coffee and tea. You can ask for breakfast to be packed to go on safari, or come back in the morning and gorge on upma, parathas, idli, puri bhaji as well as freshly made omelettes and fried eggs. The Eggs Kejriwal is always the highlight of my stay!
Ducks flew across the river, almost as if to speed us up and say 'hey look at us'. Scores of kingfishers darted around us, treating us to a sight we would never have seen on land.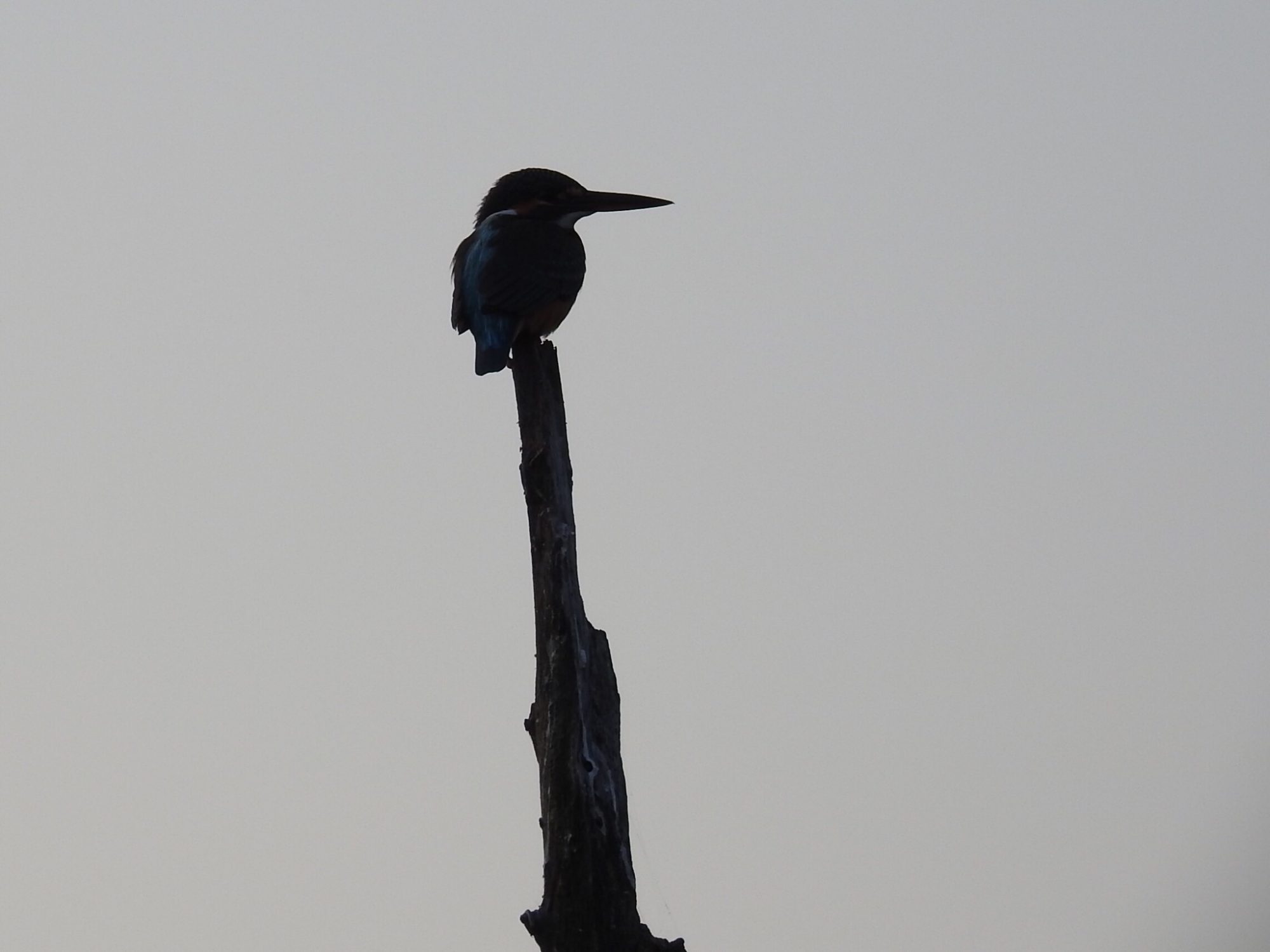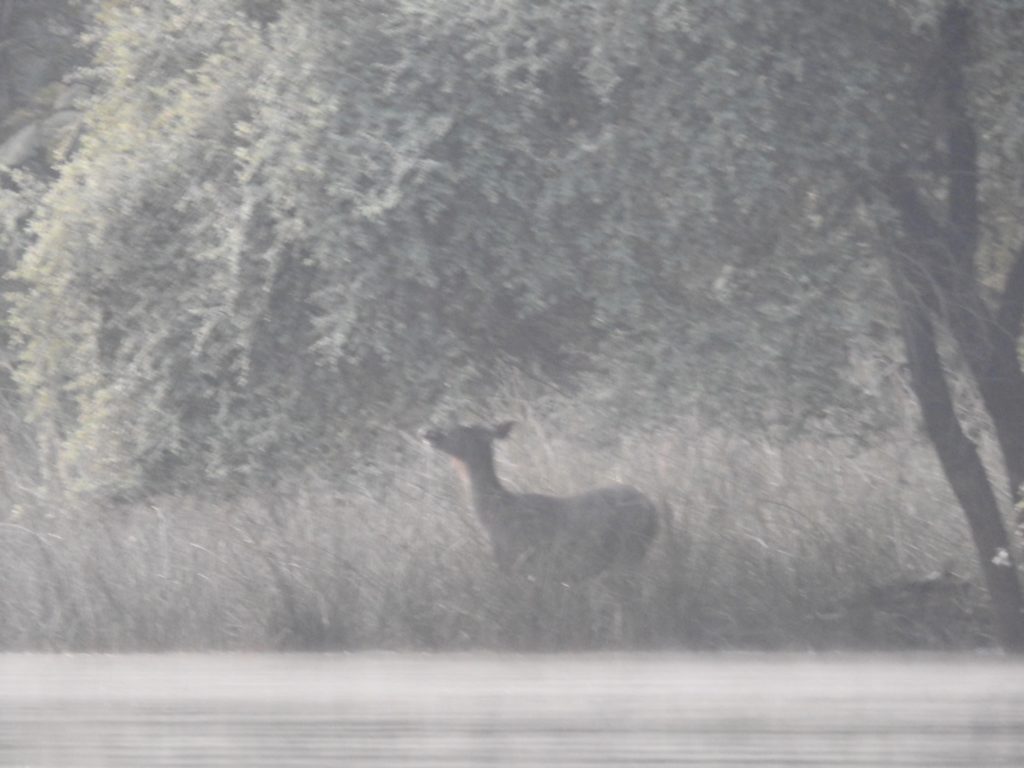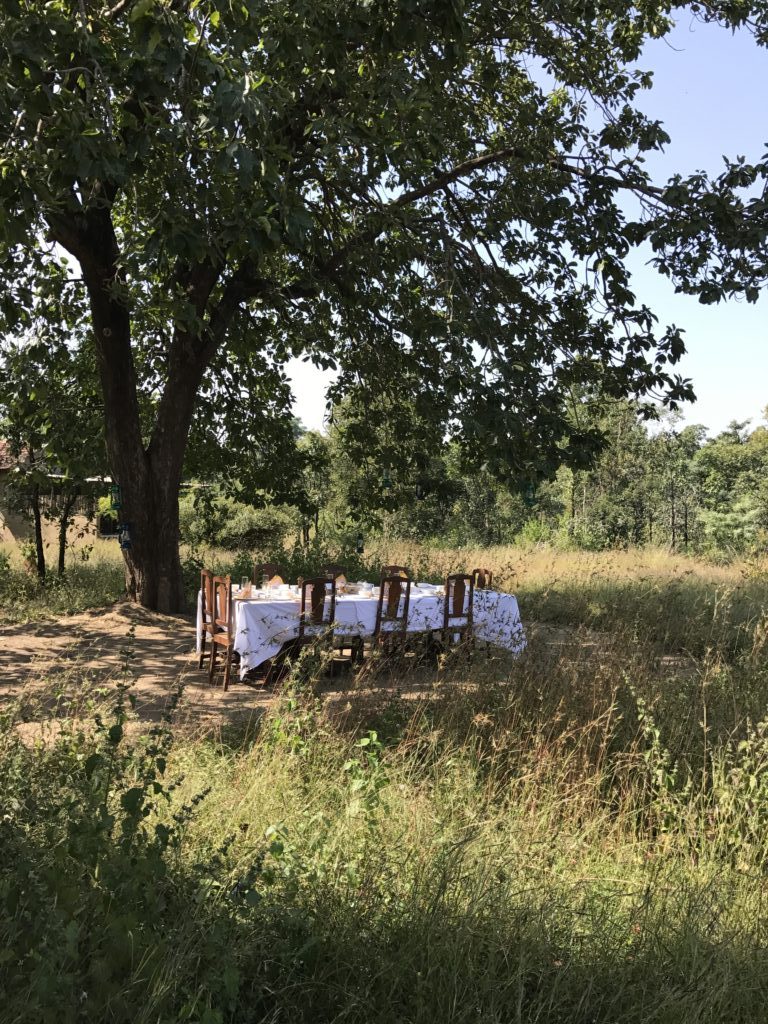 The great thing about this kind of safari experience is that you don't get jostled around too much. In the colder months, your probability of spotting birds, deer, and mammals are much higher on a boat safari than they are in a jeep. Satpura offers motorised canoe rides for older visitors who aren't able to cramp themselves into canoes and sit still for 3 hours. A couple staying at our lodge saw everything they needed to from one of the boats – crocodile, bear, wild dog and hundreds of birds. Our wonderful morning came to an end as the sun got stronger and beat down on us. We rowed to shore and made our hungry way back to 'camp', looking forward to what the afternoon was going to bring.